On Thursday, the Tacoma Glass Museum was offering free admission after 5pm, so we packed up the kids, met with haHa and Finner and went to explore!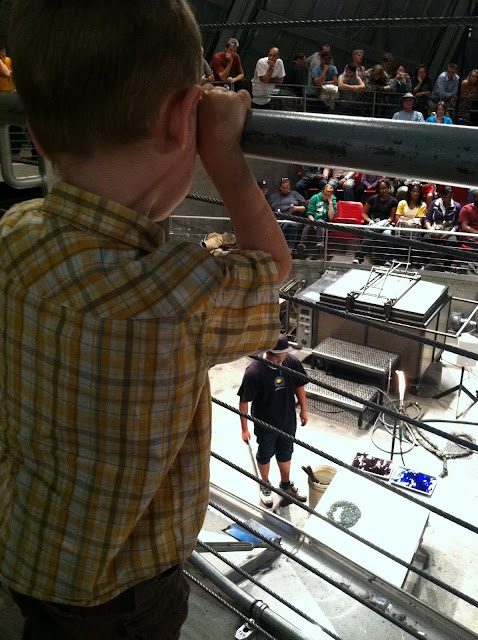 The huge, metal, cone-shaped building houses the hot room, which is where one can watch glass artists melt, shape and blow red-hot glass into all kinds of objects. While we were there, they were working on a Sea Turtle.
I think the structure itself is just as fascinating as what goes on inside of it. Isn't that vaulted ceiling beautiful?
Inside, the icy glass forest stole the show in the Glimmering Gone exhibit. This was the only photo I managed to get before I was told that no photography was allowed. :) It'd difficult to see, but the various textures and layers of glass created such an enchanting atmosphere. I especially loved the finely spun 'mist' near the back.
Outside, the children splashed amid the fountains...
... despite the crisp breeze that left us all feeling chilly.
Then we admired the boats...
... watched trains go by and fire trucks pull up-- at the same time! What a dream come true for E!
It was a long day, but one that left us all feeling satisfied and invigorated. I'm really loving all these free events that Mom keeps finding!